"

Cathi, thank you! You did such a lovely opening for us, so feminine and sweet and gentle and tenderly musical. You immediately put the audience at ease, drawing them into a relaxed and sentimental mood. Sweet work, Darling. It even made us Rats act more like gentlemen, which is unheard of, and I believe - against official Rat Pack rules of engagement." - Buster M
— Facebook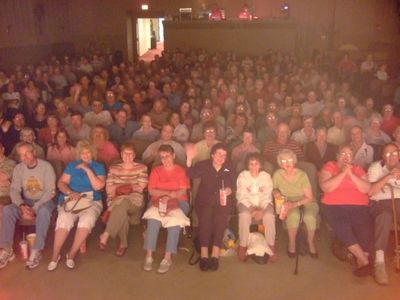 It is always so nice to see so many faces enjoying the songs being sung. Those of you who are dedicated fans are special to me! Many thanks for your love and support.
"

I have seen 'Always...Patsy Cline' performed all over the place by professionals locally and in South Carolina, Florida, etc. and YOU, young lady were the BEST I have ever seen or heard anywhere! You need to be recording your voice on CDs!" - ~ Col. Pat McMullan, Latrobe PA & Florida
— Audience Member
"

Cathi, in my opinion, I think you sound BETTER than Patsy Cline!" - ~ Jackie C
"

Cathi, you sing Patsy Cline's music so EFFORTLESSLY! It just flows from you!" - ~ Janet P of Greensburg
"

Thank You, Cathi! ROUTE 66 was a superb show!! The Valley Players of Ligonier are blessed once again! Your creativity, talent and care combine with fantastic results. "THANK YOU" hardly begins to convey our appreciation." - ~ Lisa S
— Valley Players of Ligonier Board of Directors
"

Cathi, Maybe I'm 'crazy' but I must confess that I catch myself humming PATSY CLINE songs 'after midnight' and thinking about the tender, entertaining performance I saw of ALWAYS...PATSY CLINE at our Ligonier Theater. Emphatically NOT just for fans of country music, this was a rich and touching show for one and all. Cast and crew worked together seamlessly (and effortlessly, it appeared, though I know it had to have been work) to create a tender, believable portrayal of the singer's life and thoughts, her developing career, and a blossoming friendship with a perceptive fan --- a great story, interwoven with a wonderful journey through Patsy's music. The band, so good we should have had to pay a separate cover charge to hear them, made an incredible backdrop for Patsy's smooth and soulful singing. Louise was the the perfect foil for Patsy and an absolute hoot to boot! Staging and lighting were arranged to great effect, carrying us as fluidly from one locale to another as the music transported us from one emotion to the next. And the parade of costumes --- perfect! Let me tell you (in the highly unlikely case you hadn't already heard): ALWAYS...PATSY CLINE was a thoroughly enjoyable experience for your audiences, and I suspect (and sincerely hope) that it was for you as well! Just one question---are you SURE that wasn't really Patsy Cline up there on stage? I'll bet loads of people asked for 'her' autograph! Every aspect of this show was top-notch, and you are to be commended for your part in making ALWAYS...PATSY CLINE such a success for the Valley Players of Ligonier. Heaps o' thanks and buckets o' gratitude from my li'l ol' heart! Y'all come back now, y'hear! (PLEASE!!) In a word...WOW!!!!!" - ~ Valley Players of Ligonier
— Board of Directors
"

Cathi, you totally TRANSFORMED yourself into the Patsy Cline character: your hair, your clothes, the way you moved, and even your choice of lipstick! I can't wait to come back to see you again! That was such a WONDERFUL show!" - A New Fan!
— Latrobe Bulletin