Last evening (5/7/22) at the Germano Hall in Derry, the clock went back into the past as Patsy Cline and Elvis were both in the building singing the songs from a time and place long ago but not forgotten… Dianne and I really enjoyed the time spent with family, friends, Patsy and Elvis.  Cathi Rhodes who does a great tribute to Patsy Cline sang those memorable tunes that had the audience clapping and singing along as well as just smiling and listening to those soft haunting melodies that Patsy made famous.  Elvis came back to life in the body of Travis Powell, who looked, sounded and much to the pleasure of the ladies…moved like Elvis.  He also had the crowd swaying, dancing and swooning as if they were in their teens again.  Both performers were more than professional entertainers, they were warm and personable people during and after their show…having pictures taken and mingling with the crowd.  During his performance, Elvis even called a well-known elderly gentleman in the area that bought a ticket but was too ill to attend the event.  It was his birthday so Elvis along with the audience sang Happy Birthday to him over the phone. 
It was quite a wonderful event with a crowd of people who grew up during the time when Patsy and Elvis were alive and in their prime.  The hours went by as quickly as the decades of time from when most of the crowd remembered going to dances in the area when the songs were new and popular, their spouses were dates on a Saturday night and a world full of opportunities was there for the taking… One thing for sure, you could see that those who were there were glad they took the opportunity to attend the show… The organizers, Karen Tamer Carota, Brenda Perry, Pauline and Mike Ridilla and a supporting crew of helpers are making plans for a possible repeat event next year… They all were grateful for the success of the show and I'm sure would want to say "Thank you, very much" as Elvis left the building….by Nick Carota
"

Cathi, thank you! You did such a lovely opening for us, so feminine and sweet and gentle and tenderly musical. You immediately put the audience at ease, drawing them into a relaxed and sentimental mood. Sweet work, Darling. It even made us Rats act more like gentlemen, which is unheard of, and I believe - against official Rat Pack rules of engagement." - Buster M
— Facebook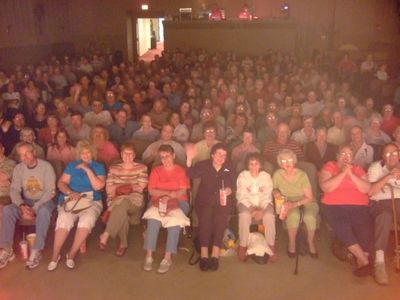 It is always so nice to see so many faces enjoying the songs being sung. Those of you who are dedicated fans are special to me! Many thanks for your love and support.
"

I have seen 'Always...Patsy Cline' performed all over the place by professionals locally and in South Carolina, Florida, etc. and YOU, young lady were the BEST I have ever seen or heard anywhere! You need to be recording your voice on CDs!" - ~ Col. Pat McMullan, Latrobe PA & Florida
— Audience Member
"

Cathi, in my opinion, I think you sound BETTER than Patsy Cline!" - ~ Jackie C
"

Cathi, you sing Patsy Cline's music so EFFORTLESSLY! It just flows from you!" - ~ Janet P of Greensburg
"

Thank You, Cathi! ROUTE 66 was a superb show!! The Valley Players of Ligonier are blessed once again! Your creativity, talent and care combine with fantastic results. "THANK YOU" hardly begins to convey our appreciation." - ~ Lisa S
— Valley Players of Ligonier Board of Directors